Taiwan
1998 - 2002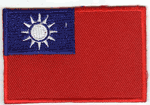 Following a year teaching and studying in Korea, I moved to Taiwan to continue teaching. I knew none of the language, which took a lot of getting used to. I lived on a vocabulary of about 50 words for the first two years. Even after 4 years I never learned to read or write.I spent most of my time designing teaching materials and managing my courses. In my spare time, I learned to use computers from my bicycle designer friends in Taiwan. As I learned Adobe Illustrator, I began producing some of the instructional products described below. I spent my time at three different schools in Taichung City.
Royal Language School
I taught afternoon and evening English classes to early elementary students. After joining the school's committee to select new teaching materials, I realized how poor the options were, I began dreaming of ways to create EFL specific teaching materials.
During my time at Royal, I created Super E, a comic hero who taught long vowels to my students. As I learned Adobe Illustrator, I began making more classroom signs to help students with their Survival English.
Big Tree English School
My second year in Taiwan I joined a small school with a wonderful owner. The two of us split the teaching duties in a two room schoolhouse. I taught in the afternoons and evenings, then she joined me to teach in the evening. We created a series of thematic classes to go along with the grammar lessons called Kids Club. Kids Club was for our first through fifth grade students, and was marketed as a blend of games, activities, lessons, and projects for students with varying skill level.
We created Easy Spelling and the school printed a series of spelling books for the students. Our plans to implement a sticker dictionary or "sticktionary " were never realized. The owner's husband worked for Evergreen and was transferred to Bangkok. She sold the school and I began working at Paradise Kindergarten before opening my own classes.
Paradise Kindergarten
I found a wonderful school in the Tai Ping countryside. Paradise had a huge property with a swimming pool and ballroom and a place for kids to play outside. I taught kindergarten students English in the morning, then helped my co-teacher with Mandarin classes in the afternoons. The students were four and five years old, and responded very well to learning to read through Firecracker Phonics It was with this group of students that I began working on ways to simplify the alphabet, and teach students lip reading techniques.I had become more involved with writing my own lessons and wanted to have a group where I could control the classes and format. I began teaching adults using multimedia when I started teaching classes at SpeakEasy.