Neighborhood Academic Initiative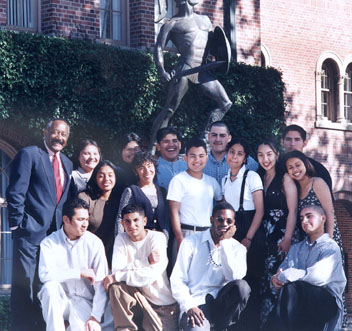 The University of Southern California and the Los Angeles Unified School District formed the Neighborhood Academic Initiative in 1992.
The goal of the program was to reform inner-city schools not by targeting the brightest students, but to find average students who were willing to work hard with the goal of getting in to college. "Scholars" in the program took regular classes in their home school, and Math and English classes with other NAI scholars.Scholars who completed the NAI program and were accepted into the University of Southern California were given a full scholarship.The program received national attention for its innovation and committment.
I began as a science teacher in a special saturday morning Pre-College Enrichment Academy for seventh and eighth grade students. After a year as a teacher, I began working to involve more USC students in the NAI Community. I created and implemented the Academic Mentor program which brought USC students and NAI scholars together for help with homework and the stresses of high school. We began with volunteer mentors. After two successful years, were able to secure a grant to create a stable group of mentors and administration. To my knowledge the Academic Mentor program continues to this day.