Odeo.com is one of my favorite podcasting services. Not only because I like the way they do things, but that they have some really cutting edge tools, like badges. They're saying "Leave me an Odeo" but what they mean is, you can leave a voicemail message on a website. Remember when you'd come home and check your answering machine? i miss those days.
Maybe you don't. many people still come home and check the light to see how many messages are waiting for them. Now that mentatlity is brought to the web.
This badge gives you the option of leaving me a voicemail. (Or just go to this link)the send me a message link.

You'll get this option.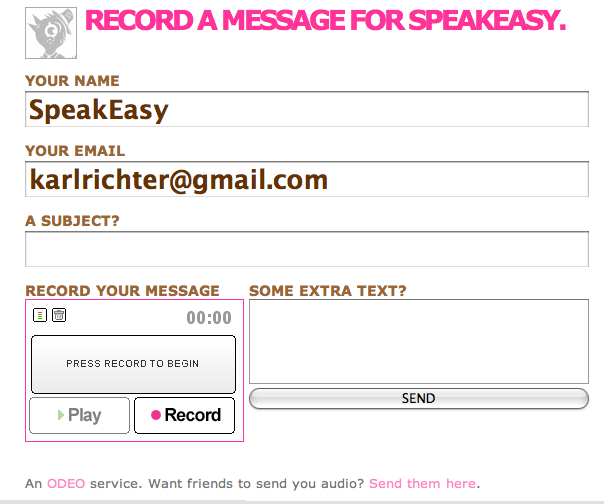 If you have a built-in mic, or another microphone plugged into your computer, you can leave me a little voice message. Hit record, add your text and info, then hit submit, and Odeo will send me a notice that you've left a message on my site. I can listen to it, then if I choose, I can share it on the site by pasting some of the code it gives me into the webpage.
So, that's the promise. Let's see how well it works.
If you read this blog and want to try it, just leave me a message saying. "This is —- and the badge worked for me. Of course, if you want to say more, feel free, but I'd love to see how well this works out for people. I'm thinking of using the badge in the EDTEC department to give students a chance to tell other students about other courses. If it doesn't work, could you leave a comment telling me that something went wrong?
I did it, and it worked perfectly.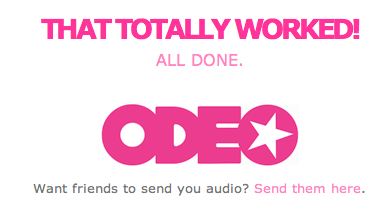 If you'd like to hear me say "OK, let's see how it works." click the player below.